Commercial Leak Repairs
Our services for commercial leak repairs are complemented by timely service.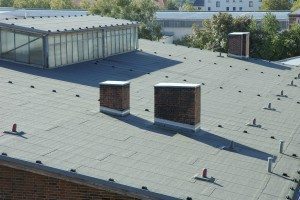 Commercial Leak Repairs – Even if your roof was constructed using highly durable materials, it can still become damaged by fallen trees, severe storms, and other unforeseen situations. When your roof becomes damaged and starts to leak, your workday operations may suffer, and your property or equipment may incur significant and expensive damage.
At TQM Roofing Inc., we realize how important it is to get your roof to stop leaking and fix the damage as quickly as possible. For this reason, our services for commercial leak repairs are complemented by timely service. After we receive your call, we will promptly dispatch a team of roofing professionals to your location to ensure that your roof does not sustain any further harm.
When it comes to commercial leak repairs, it can be difficult to determine exactly where the source of the leak is.
Thanks to our experience in the commercial roofing industry, we know exactly how to handle difficult commercial leak repairs and will find the source of your leaky roof in a timely and efficient manner. We encourage you to keep in mind that even a minor leak can wreak havoc on your property's structure. Due to this, it's essential that you call us soon after you notice the signs of a leaking roof.
If you want to know more about identifying a leaky roof or what makes our commercial leak repairs stand out, give us a call at TQM Roofing Inc. today. We are truly vested in your company's success and are always here to meet your business' commercial roof repair needs.