We can perform an inspection to determine if you need our commercial re-roofing services.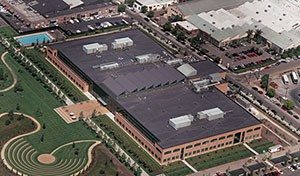 Commercial Re-Roofing – If you own a building to operate your business out of, you know how important it is to keep the facility in working order. An intact roof is a key component to your facility operations, and you'll want to check out your roof on a regular basis to be on the lookout for potential damage. A damaged roof can lead to costly repairs on the equipment located in the facility, not to mention the time you will lose in operations while you get damaged equipment fixed. It's better to check for potential damage and weak spots and fix those problems before they become something worse.
Unless you are experienced in the commercial re-roofing business, you may not be sure about what to look for. Here are a few signs of roof damage.
Bubbles. Raised portions of the roof indicate that water is trapped in the roof cover. Moisture leads to significant roof damage, and raised bubbles make the roof more susceptible to wind damage.
Damaged roof flashing. This can allow water to leak into the building.
Tears in the roof cover. This also allows water to leak into the facility.
These symptoms are not easily seen from the ground, and you'll need to get up on your roof to check for them. If you are uncomfortable or unable to check your roof, give us a call at TQM Roofing Inc., and we can do an inspection for you.
At TQM Roofing Inc., we are highly experienced in the commercial re-roofing industry. We have been serving since 1996. We are known in the industry for our high-quality work and materials, and because of that, we are sought after for our work in North Carolina, South Carolina, Georgia, Virginia, and Tennessee.
When you are ready for a commercial re-roofing job, be sure to call us at TQM Roofing Inc.