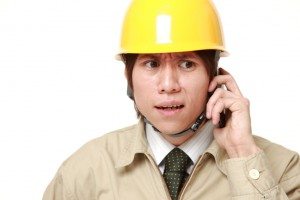 If you are building a new commercial building or considering updating your current one, it is essential that you hire the right commercial contractor to assist you.  Updating a commercial property is a large investment– one that you can't take any chances on.  While finding a contractor in your budget is important, you must also find one that will be reliable, honest, and professional.
Here are 3 important warning signs that the contractor you are considering isn't right for you.
"Call Me Back"- You and your contractor are going to be working together for a long time.  Your commercial project is important to you, and you want to feel like you are your contractor's top priority. If you are already having trouble getting ahold of your roofing contractor, chances are the communication will only get worse.  Communication is a huge part of any professional working relationship. If it takes you an uncomfortable amount of time to get your contractor to answer you back before the work has even begun, it may be time to consider looking elsewhere.
Residential vs. Commercial- Unlike a general contractor, a roofing contractor should be specialized in either residential or commercial roofing systems. The two are very different, and a residential roofing contractor is not your best option for a commercial roof.  There are different specifications and considerations to each.  If your roofing contractor does not have the right qualifications, he or she is not right for your project, no matter what kind of "deal" they claim they can give you.
My Way or the Highway- A contractor should have your best interests at heart.  They should be knowledgeable about the many products offered, but they shouldn't push a product that doesn't seem right for your project or wants. This all comes down to how well you work with your potential contractor. If your personalities are at odds, chances are you will have a long, stressful experience.
If you are searching for a roofing contractor in North Carolina who will always put you first, contact us at TQM Roofing Inc. today.