If you're looking for a commercial roofing company with a proven record of excellence, we're the ones for you!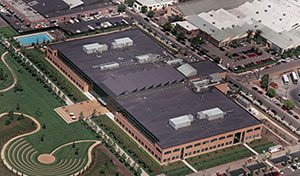 The roof of your commercial building plays an essential role, so finding the right commercial roofing company to handle installing and maintaining yours is imperative to your business's success. Here at TQM Roofing Inc., we provide commercial roofing services for facilities throughout North Carolina, and our skilled team would be proud to assist you with any commercial project.
We've been in the commercial roofing industry since 1996, and during our long career, we've worked hard to become one of the top companies in the area. Our dedication to our customers and commitment to providing them with exceptional roofs, as well as outstanding service, is reflected in our standing among the top 100 commercial roofing companies in the nation with leading manufacturers like Firestone, Carlisle, Genflex, and Manville.
To put things into better perspective, consider the fact that our project leads have an average of 10 to 15 years of experience, if not more. With knowledgeable and highly trained technicians at the helm of every team, we ensure that our workmanship is always top-notch. Additionally, we maintain our own staff of dedicated commercial roofing technicians instead of depending solely on subcontractors, and we invest in high-end equipment to make sure our team always comes prepared with the very best. Whether you need repairs, replacements, maintenance, or a complete commercial roof installation, you can count on us to handle the job.
Our team is proud to work on 80+ commercial roofing projects each year across five states. If you want to work with a company with a proven track record of excellence, turn to us. Reach out today to learn more about our range of commercial roofing services or inquire about getting a quote for your next project.
---